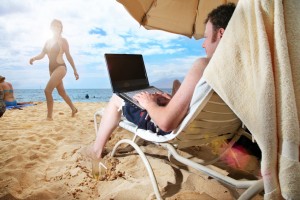 If you're thinking about buying a piece of real estate on Sullivan's Island and would like to spend some time in a home here before doing so, remember that summer is right around the corner. If you haven't done so already now is the time — perhaps your last chance — to reserve a vacation rental property on Sullivan's Island for the 2013 summer season. With limited rental homes on the island, available properties fill up fast. Some vacation properties here are already booking for Thanksgiving!
If you want to get the feel for what it's like to own Sullivan's Island real estate but don't have much firsthand experience with the area, renting a home and spending a weeklong vacation here is a good first step. The beaches are kept natural, which makes for some amazing sights — but the dearth of facilities can be inconvenient if you don't have a home nearby for necessary pit-stops and breaks from the sun.
What better way to get a feel for life on the island than to live here — albeit temporarily — for a vacation? As temperatures rise, so too do housing prices. Best to go ahead and get your due diligence done now. You can read about the island and watch videos on the area, of course. You can even stay close by in a Mount Pleasant hotel and get Bob Brennaman to give you a tour of the island. But booking a home and staying a few days is the only way to get a true sense of the atmosphere. If you have accommodations on the island, getting to the beach or grabbing a bite to eat is just a matter of a short walk or bike ride — no traffic or parking to worry about.
If you are considering a Sullivan's Island real estate purchase, Bob Brennaman can give you plenty of other tips and information about the area. You can contact him through this website or at the phone number listed at the top of this page. We hope to see ya'll soon!