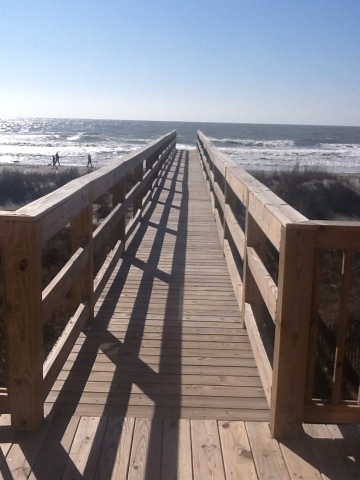 Earlier in September, the South Carolina Department of Health and Environmental Control (DHEC) awarded Coastal Public Access Improvement Grants to 10 coastal municipalities, including the Town of Sullivan's Island, the Town of Mount Pleasant, the City of Folly Beach, Charleston County and Charleston County Parks. These grants will fund a total of 23 projects aimed at improving public access to beaches and coastal areas throughout the state. Each community/organization that was awarded a grant will match the funds with its own money.
Beach renourishment activities were suspended for the 2011–12 fiscal year, but Budget Proviso 22.34 enabled DHEC to shift excess renourishment funds to communities for coastal access improvements. No word, however, on how much each community received.
So how will community governments use the funds to improve beach access? Sullivans Island plans to construct five beach access walkways. Details as to where these walkways will be located and intended building materials are not yet available. Currently, Sullivans Island has four wheelchair-accessible beach walkways at Stations 18, 19, 22 1/2, and 26 1/2, and it will be nice to see the town improve existing beach access routes.
Mount Pleasant plans to use its grant to install interpretative signs at Shem Creek Park. Charleston County will be focusing on the rural Highway 174 corridor, which leads to Edisto Beach. The county says it will improve parking areas and water access on the way to Edisto. Folly Beach will be using its grant for renovations to beach access points near East Ashley portions of the beach.
The Charleston County Park and Recreation Commission (CCPRC) intends to improve waterfront access at McLeod Plantation, which overlooks Wappoo Creek on James Island. The plantation was purchased at the beginning of 2011, but it has been closed to the public for improvements since the real estate transaction. As of May 2012, restoration of historic buildings at the site was nearing completion, and a master plan for the property was being drawn up. The grant funding should fit nicely into CCPRC's master plan.
Other coastal communities that received grants from DHEC include Horry County, which intends to renovate three beach access points; the cities of Myrtle Beach and North Myrtle Beach, which will use the money to construct six dune walkovers each; Georgetown County, which plans to renovate the East Bay Boat Landing; and the Town of Port Royal, which will be renovating its Waterfront Promenade and boardwalk.
The beach access points really do set the tone for a wonderful beach trip, and these improvements will be a great way to start the season next year.