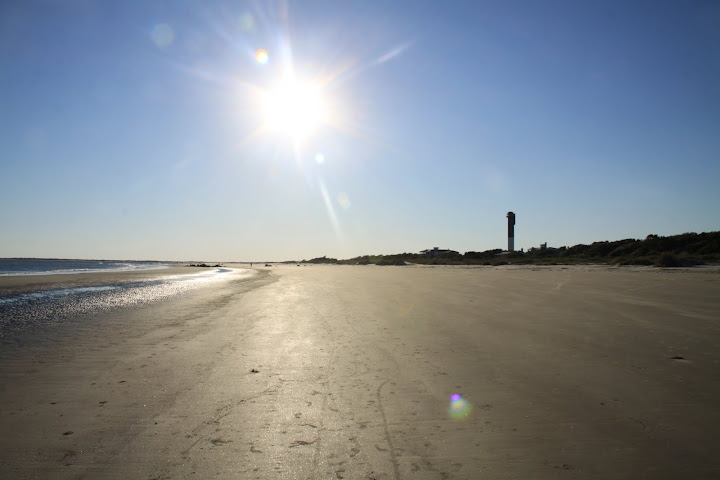 If you have spring fever and are gearing up for a beach trip to the Charleston area, it's definitely a good idea to familiarize yourself with some beach safety information. In Part I of our Beach Safety Guide, we posted the Charleston County beach park lifeguard schedule and some public service phone numbers that are good to have handy.
Do keep in mind that if you're vacationing at Sullivan's Island, there are no lifeguards on duty here. All Sullivan's Island beaches are in a natural state and virtually unimproved. There are no municipal parking lots, and all public parking for day visitors is on-street. The beaches have no restrooms, changing rooms or showers. But they are pristine and quiet — well worth the trip. Handicap access is available at Stations 18, 19, 22 1/2 and 26 1/2.
Charleston-area beaches are quite sunny, and this should be one of your primary concerns; it is easy to acquire a severe sunburn in a short time, and the sun's UV rays can be especially damaging to the eyes. Sunscreen and sunglasses are basically mandatory on Charleston's beaches.
Sometimes, the sun is stronger than normal, and it's always a good idea to check an area's UV index, especially if you have small children. You can use the EPA's tool to check the UV index (below) for your beach of choice. Just enter a town name or a zip code, and hit the green search button. The EPA's UV index for the area will open in a new window with a key that tells you what the UV number means. Here are the zip codes for area beaches: Sullivans Island 29482, Isle of Palms 29451, Folly Beach 29439 and Kiawah Island 29455.
You also always want to consider the water quality. The South Carolina Department of Health and Environmental Control (SCDHEC) begins monitoring the water quality at South Carolina beaches on May 15. They check for contamination, such as high bacteria counts and stromwater runoff. High bacteria counts and pathogens from runoff can cause intestinal discomfort and skin, ear, eye, nose and throat infections. DHEC will issue an advisory if their water sampling program indicates high levels of bacteria or pathogens in the waters of Charleston area beaches.This doesn't happen too often — mostly only after a period of heavy rainfall.
You can check advisories at the DHEC website, the local news or by following DHEC on Twitter. If an advisory is issued, wading in the water is typically fine (as long as you don't have any open cuts), but swimming should be avoided. Other ways to avoid getting sick from compromised water quality include not swimming after a heavy rainfall (wait at least 12 hours) and stopping children from playing in shallow pools near swashes (shallow tidal streams) and storm pipes. It is better to allow children to play in shallow parts of the surf while supervised.